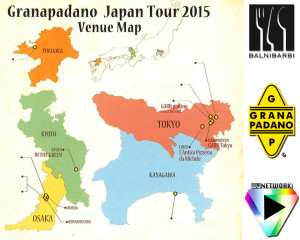 The "Grana Padano Japan Tour", a Culinary Journey around the Italian Taste thanks to the joint among Balnibarbi Co., Grana Padano and WJ Network.
The Balnibarbi Group is proud to launch the "Grana Padano Japan Tour", a culinary journey around the Italian taste discovering Grana Padano, the most worldwide spread Italian cheese, thanks to some of its most important restaurants in Japan. Leaving from the "Riverside Cafe Cielo y Rio" Restaurant in Tokyo on June 6th for arriving at the new opening "L'Antica Pizzera 'da Michele' Hakata" in Fukuoka on October, for five months journey and just for few weeks, thanks to special menus developed by excellent chefs , it will be possible to relish the delicacy of the Grana Padano based Italian Cooking. An unique occasion to let the Japanese people know the deliciousness of a product that Italian ones have already known for almost one thousand years.
The GPJT event signs the joint among Balnibarbi Co., restaurants leader with almost 50 shops in Japan, The Consorzio Tutela Grana Padano, which gathers 132 producers and 156 cheese maturers, and the WJ Network, which has actively contributed in the Made in Italy promotion program.
If today WJ Network has given its contribution, along with Balnibarbi, for promoting "the good inside us", according to Grana Padano's slogan, tomorrow "the best inside Italy" will be promoted too. The marked out road is the right one.