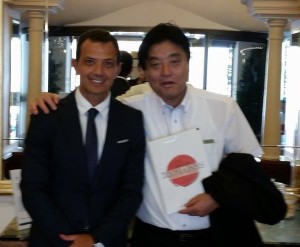 Today, took place the first official Visit of Nagoya City to Fiera Milano. Mayor Kawamura guided the delegatoon composed by, among the others, the general director of the District, Niwa Yoshihino and other responsibles for the industry Yamigihara Takahito and Takegami Shiro.
For Fiera Milano, to receive the Mayor and Riccardo d'Urso, in charge of insitutional partnership Direction between the two entities, there were Salvatore Sapienza, Vittoria Torchia, responsible of special initiatives of Direction institutional partnership, and Simona Ruggiero.
The result of the meeting has been very positive, enough to kick off an official correspondence between Nagoya and the biggest Italian fair centre.