A NEW LINE FROM NUNZIA PALMIERI PLAYS ON INTERCHANGEABILITY OF COMPONENTS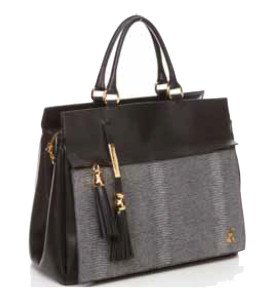 After the ipad bags nunzia palmieri is back in the limelight with the new sophia model, a "transformist" creation in homage to the most famous italian actress in the world. «i adore cinema and worked in the costume department for many years – explained the designer – i took inspiration for this model from sophia loren, a wonderful actress who can play any role and create unforgettable characters. she has extraordinary versatility that i have tried to transfer to this new bag, creating a simple and practical system which makes it functional and elegant from morning to night».
the "secret" of the sophia bag, a model of classical shape and elegant lines, lies in the interchangeability of the purse attached to the front with a hidden zip, rather like an outside pocket. two versions are available at present: one in printed kid and one in scintillating swarovski effect. «sophia can be sold together with its purse plus another to change» – points out the designer.
As to materials, the best are chosen for sophia. black or beige calf of "saffiano" effect, brass trimmings of exclusive design, lining in personalized fabric, strictly italian artisanal manufacture that nunzia palmieri brings in the world as true made in italy.
An exceptional venue has been chosen for the official launch of the sophia line: a big international event in nagoya, Japan, where all the nunzia palmieri collections will be presented within next spring/summer. As well as the new sophia line the designer announces fresh models for women and men of her famous window-bag, the ipad holder covered by an exclusive world patent.