THE ITALIAN TRADITIONAL TASTE GOES ON AN AMAZING TOUR
From Tokyo to Fukuoka, six months discovering the Grana Padano
TOKYO – on June 10th Grana Padano starts his first Japan Tour, which will last until the end of July and will be held in Tokyo and Osaka, with the ambitious goal of entering the food culture of this Country. The strengthening of promotional activities are occurring on a promising market, where sales grew by 5% last year. "The goal is to bring as soon as possible Japan in Foreign Markets Top Ten – says Riccardo d'Urso, Responsible for Japan – We aim to affirm the awareness of the product to the consumer, beyond the distribution factor. It is working with qualified partners and to enhance the nutritional quality and versatility of the product. In this sense, we are thinking about testimonial in the world of sport. " The Japan Tour is an example of innovative partnership, build with Balnibalbi's, of restaurants and cafes chain who is realizing special Grana Padano-based-on menus, introduced by aperitif accompanied by grana scale (which can 'then get a little' anywhere without imposing too much: first and second meal, dishes and dessert). The Tour 'was presented to the Japanese press at the residence of the Ambassador of Italy in Tokyo, Domenico Giorgi, that being of Piacenza, introduced the event with personal and institutional considerations as well. "Grana Padano has a versatility 'that it can perfectly harmonize not only with the Italian cuisine – Elisabetta Serraiotto, Marketing Manager of the Consorzio, said – is becoming an element of international cuisine, at various levels." And d'Urso ensures that Japanese consumers have been already 'capturing the nuances and differences with the Parmigiano Reggiano. In the direction, Japanese palate seems to appreciate the sweetest and smoother taste of Grana Padano. In addition to the most favorable price.
Click to view video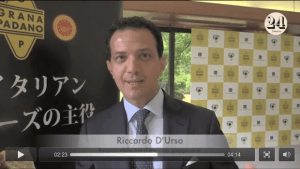 SOURCE: Stefano Carrer – ilsole24ore
Additional sources:
ANSA